Your pleasant stay is ANEK responsibility. No matter how you plan on travelling, alone or with friends, ANEK
LINES offers you all categories of accommodations to satisfy each and every preference.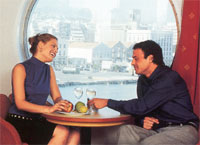 Cabins catering to all preferences: Regardless of which type of cabin you select, double, three person, four person, internal or external, each offers you various facilities such as private bathroom, air conditioning, radio and telephone - all for a relaxing and pleasant journey! In addition our lux cabins offer additional space, television and room service.

Additionally a more affordable alternative is provided by the means of the aircraft- style seat - equipped lounges. There you can travel comfortably and economically.

Special comforts for passengers with disabilities: ANEK LINES's specially designed cabins have been created to ensure that all needs regarding movement and comfort are provided for. By selecting ANEK LINES your trip will most certainly be memorable and economical. We remind you that ANEK ships also offer lounges with recliners where you can enjoy an entertaining variety of current films and television programs.