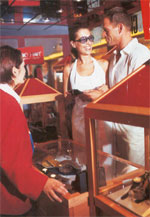 Shopping onboard

On board you will find a boutique with a wide selection of perfumes, cosmetics, jewellery, accessories and gifts as well as a self-service shop, offering a variety of clothing, travel items, spirits and wines, Greek delicacies, Swiss chocolates and selected Superfast souvenirs - all at irresistible prices!
Remember
Always bring your Bonus or Travel Club card with you!
Transactions on board are made in Greek drachmas.
There is an Exchange Bureau in the Reception area for your convenience.
On board, are accepted Eurocheques and all major credit cards. For credit card purchases, be sure to bring your valid identification card or passport with you.